Amine solvent-based capture plant
Fully instrumented, 1 tonne/day pilot-scale conventional solvent-based CO2 capture plant with two absorber columns and solvent redistribution at each of the four packed beds
Integrated with Gas Mixing Facility, trace gas injections, 240kW waste to energy boiler, 330kW Gas Turbine and Reverse Water Gas Shift (rWGS) and Fischer-Tropsch (FT) plant to enable CCUS research on liquid fuel production from natural gas, coal, biomass and wastes using green H2 produced using solar power
Enables the development, evaluation and optimisation of a variety of solvents for energy performance, degradation studies and counter-measures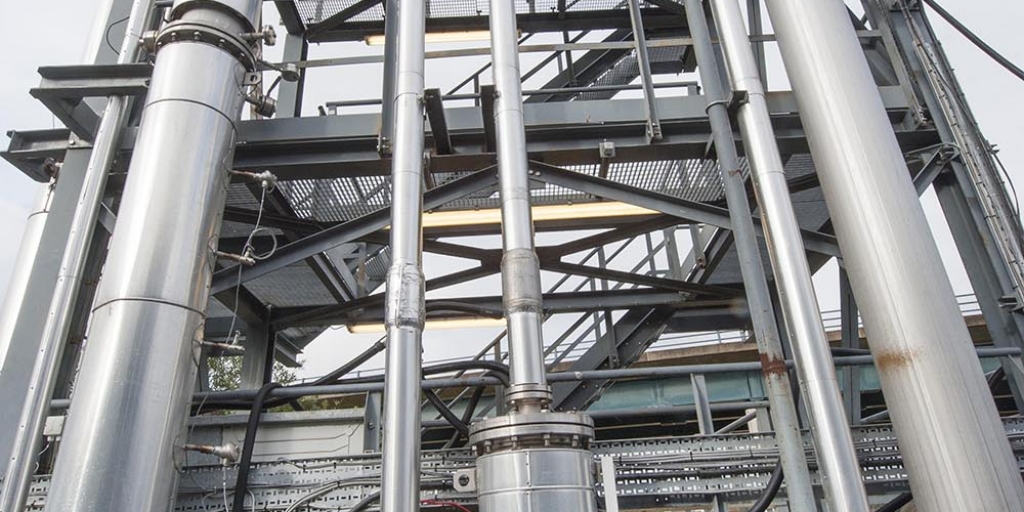 Provisions for corrosion coupons and alternative materials test sites, and trace gas injection capability for capturing carbon from any synthesized flue gas compositions
Integrated with rotating packed bed CO2 capture plant for performance assessment of individual units (absorber/stripper)
CO2 capture rotating packed bed
Next-generation pilot scale, process-intensified solvent-based CO2 capture plant with a rotating packed bed absorber and stripper, designed to remove up to 1 tonne /day of CO2 (based on MEA) from an equivalent of approximately 150kW conventional coal combustion flue gas
Improved energy performance thanks to enhanced mass transfer
Integrated with Reverse Water Gas Shift (rWGS) and Fischer-Tropsch (FT) plant for CCUS research on liquid hydrocarbon production from captured CO2 using green H2 produced using solar power
Integrated with 250kW Air Combustion Plant, 240kW waste to energy boiler and two 300kW Gas Turbines, enabling post-combustion capture research from real flue gases from natural gas power plants as well as pulverised, pelletised and chipped fuel combustion plants including coal, biomass, co-firing and wastes
Integrated with dedicated gas mixing and trace gas injection facilities enabling carbon capture from any synthesised flue gas compositions, including industrial effluent gas mixtures
Integrated with conventional CO2 capture plant for performance assessment of individual units (absorber/stripper)
Develop, evaluate and optimise a variety of solvents for post-combustion capture and related technologies, and investigate solvent energy performance, degradation studies and counter measures
Provisions for corrosion coupons and alternative materials test sites
Molten Carbonate Fuel Cell
Next generation technology to capture CO2 and produce electrical energy simultaneously
Could lead to an increase in output power of up to 80% and could eliminate up to 70% of NOx emissions as the operating temperature is lower than that of combustion
Supports extensive current and future research into low carbon energy generation, integrated energy systems and hydrogen economy
Biodiesel engine generator
The combined heat and power (CHP) biodiesel engine can use a range of liquid biofuels to generate green energy
The flue gas output is fully integrated with the on-site CO2 capture and utilisation facilities thus informing on another method of BECCS (bioenergy with carbon capture and storage)
It has 188 kW grid synchronised green electrical generation capacity, and 352 kW thermal output to supply the space heating needs of the whole facility and potentially the surrounding facilities
The biodiesel system is able to support research into a variety of liquid biofuels, facilitating the assessment of key performance indicators and thus the innovation and development of cleaner liquid fuels
The facility enables quantitative research into fuels of different origins/quality, power conversion, operational parameters, etc.
Extensive system monitoring and data logging, including with the emissions monitoring suite, provides comprehensive data for system operation
A combined biomass CHP unit with precise control for the gasification process, enabling users to achieve clean syn-gas production for power generation from biomass fuels
Integration of the syn-gas produced and the onsite Fischer-Tropsch plant for liquid biofuel production, especially jet-fuels
Extensive analytical facilities for research and development on the syn-gas quality. The flue gas output is fully integrated with the on-site CO2 capture and utilisation facilities
The Turbec T100 micro gas turbine is highly instrumented to allow monitoring of the whole gas turbine cycle (temperatures, pressures, etc.), including extensive emissions analysis from the exhaust
Conventionally fueled by natural gas, conversions are in place to fire a range of other fuels, including biogas
The system comprises of a single-stage centrifugal compressor (with a pressure ratio of 4.5:1), a lean, pre-mixed combustion chamber and a single-stage radial turbine
The generator and shaft rotate at up to 70,000 rpm to generate high-frequency electricity that is exported to the grid
The counter-current water-gas heat exchanger is used to recover thermal energy; overall, the system has an electrical output of100 kW, with a thermal output of 165 kW (electrical efficiency ~30%; total efficiency ~80 %)
The significant dilution ensures high combustion efficiencies and low levels of emissions (CO, NOx, etc.)
The system has been modified to include exhaust gas recycle (EGR & Selective EGR), by which CO2 injections enable the examination of the impacts of recycling the exhaust gases on the combustion system, efficiency and emissions under different operating conditions
Post-combustion CO2 capture research from the turbine system is available, since the flue gas pathway is integrated into the on-site capture systems
Fuel flexibility research means that we are also investigating including hydrogen blending and other sustainable alternative fuels into our system
Grate-fired biomass with WtE and BECCS
The 240 kWth moving grate fired WtE boiler is capable of burning a range of virgin biomass and waste fuels
To combine the combustion of biomass and waste derived fuels with carbon capture research, the flue gas train is fully integrated with the on-site Amine solvent-based capture plant and can provide flue glasses produced by a wide range of fuels.
Fuel capabilities include:
– Virgin biomass fuels, including woodchip and pellets
– Recycled untreated wood products (e.g. shipping pallets, cable reels)
– Biomass waste from agriculture or forestry
– Vegetable waste from the food processing industry
The combustion chamber was built according to a direct pass principle for drying, gasification and combustion of the fuel, and the subsequent removal of ash from the combustion chamber
The boiler was specifically designed for research purposes and is fitted with a wide range of ports at key locations of interest within the combustion chamber and flue gas passage to allow the detailed characterisation of these zones.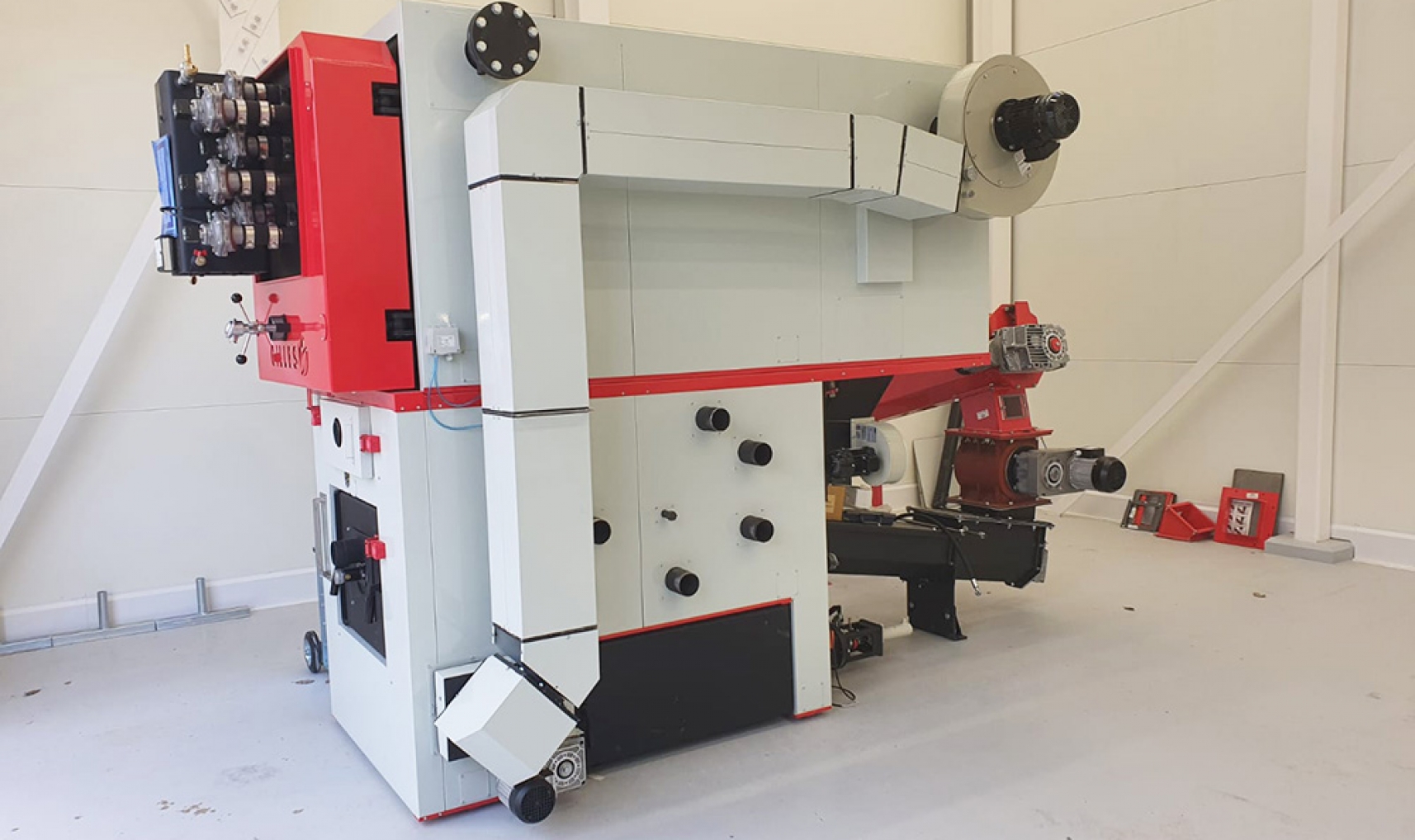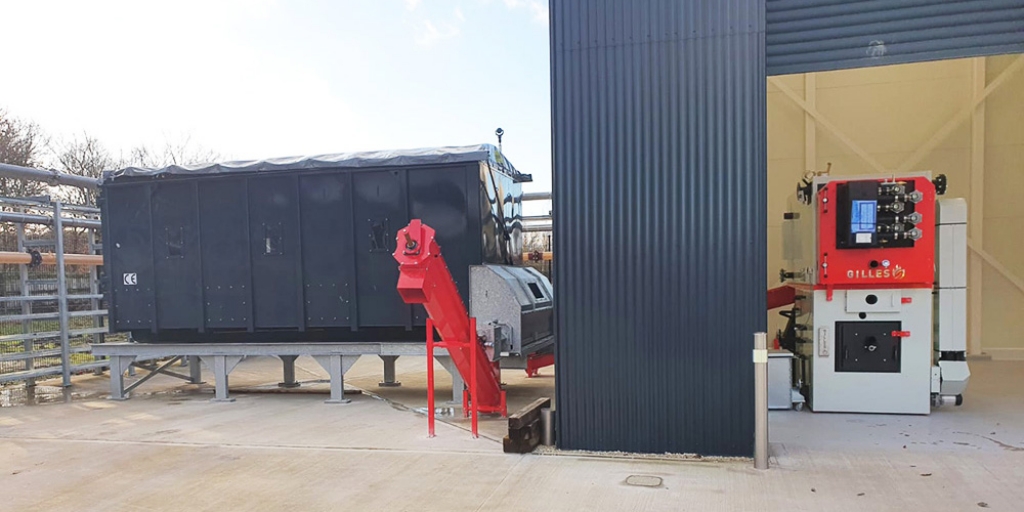 Example experimental capabilities include the following analytical probes:
– Flame imaging camera probe
– Suction pyrometer
– Gas sampling probes
– Ellipsoidal radiometer
– Particle collection probe
– Deposition probes
– Corrosion probes to fit metal coupons made from materials used for the manufacturing of specialised boiler tubes
Gas analysis can be carried out using:
– a stack gas analyser system (O2, CO2, CO, NOx, THC)
– a Gasmet FTIR
– an ETG syngas analyser (H2, CO2, CO, O2, NOx, CmHn)
– a Spectro Inductively Coupled Plasma-Optical Emission Spectroscopy (ICP-OES) analyser for online simultaneous multi metal emissions detection (e.g. K, Na, Hg, Cr, Cd, Pb, V, Zn, etc)
High combustion temperatures, as well as a long residence time of the combustion gases, guarantee a clean burning process. Furthermore, particulate removal is achieved in two distinct steps using a multi cyclone followed by an electrostatic precipitator (ESP) to adhere to the strict emissions limits of the Medium Combustion Plant Directive (MCPD)