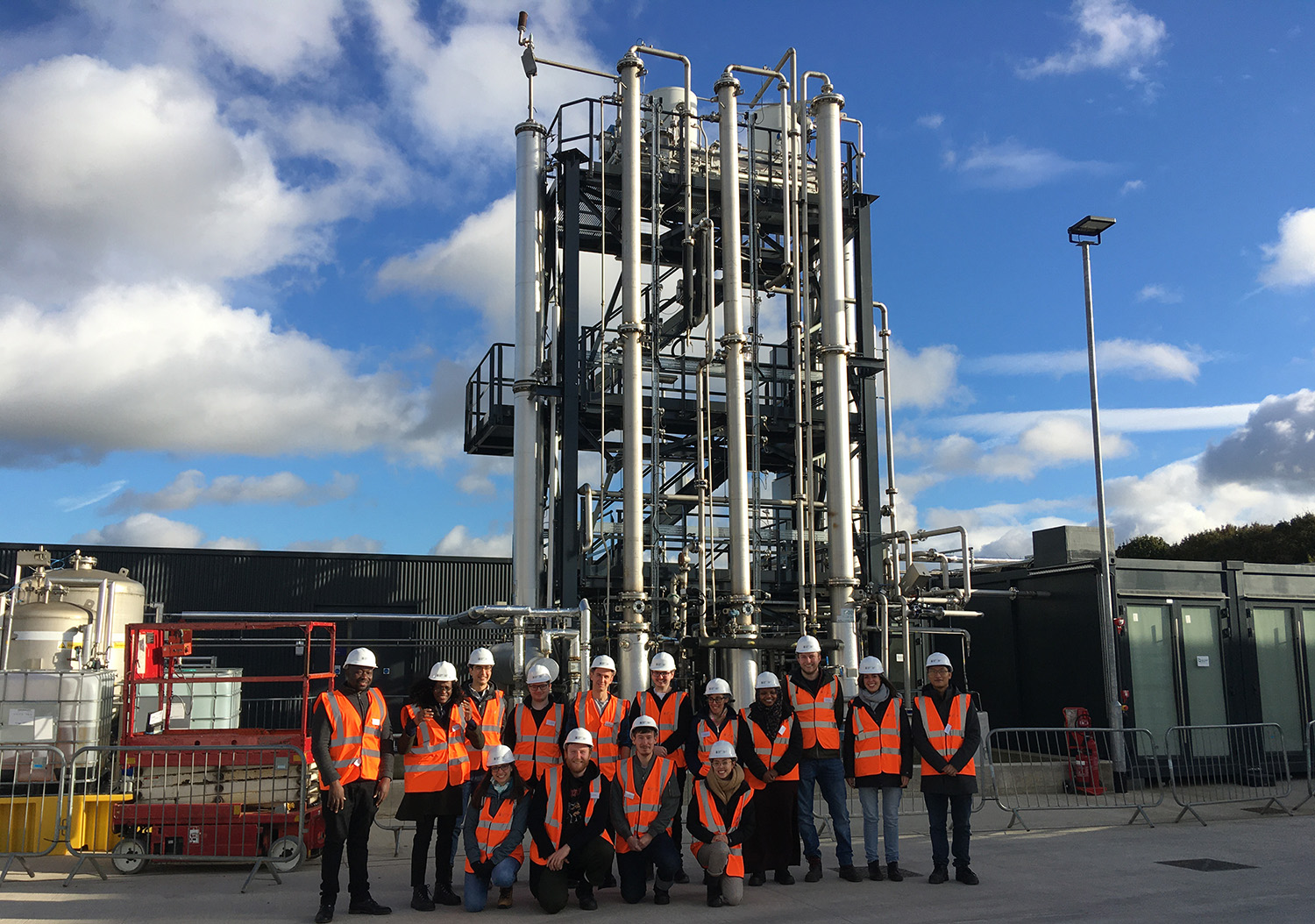 As the Translational Energy Research Centre nears full completion, we're able to welcome more visitors to the centre to see and experience our state-of-the-art facilities, including students who are invited to learn about the set up, running and analysis of our research equipment as part of their projects.
From 1st – 5th November 2021, we were joined by students from the EPSRC Centre for Doctoral Training in Resilient Decarbonised Fuel Energy Systems and early career PhD researchers from the UKCCSRC. The 16 students undertook a week of practical training activities on the pilot-scale facilities for a module coordinated by Dr Karen Finney.
The course allowed the students to receive in-depth practical training and hands-on experience of operating large, pilot-scale facilities, in order to acquire a detailed understanding of industrial research environments, learn about related health and safety aspects of the centre and discover the range of capabilities of the research equipment for their own projects.
With instruction on a range of energy systems and green energy solutions – including energy generation from a range of sustainable fuel sources, low-carbon energy vectors, the applications of carbon capture technologies, energy efficiency and power plant simulation – the training week delivered a comprehensive introduction to the operational activities of an industrially-focussed research facility.
The week began with welcomes and introductions from key members of the TERC staff, as well as a thorough health and safety run down and detailed discussion of risk assessments by the TERC Health and Safety officer, Vicky Hill. Then the students were split into two groups and each undertook sessions with our researchers on a topic (waste to energy and carbon capture, utilisation and storage), which included practical, interactive activities. The week was rounded up with an introduction to modelling and data analysis workshops, and throughout the students heard technical talks on TERC's areas of expertise from our in-house theme managers and research fellows – including tours of the Organic Rankine Cycle, hydrogen electrolyser, biomass gasifier and multi-fuel gas turbine.
The students got to experience first-hand our 240kWth Biomass Grate Boiler and the Amine Solvent-based CO2 Capture plant, and were able to start up both plants with the guidance and assistance of Dr Kris Milkowski and Dr János Szuhánszki as well as Ihab Ahmed. The students monitored the plants and gained the operational data, including extensive gas analysis. Overall, the CDT training week was a great success for the students, who were excited to visit and operate the brand new facilities.
One student who joined the course, David Eshun, said: "I found the experience really worthwhile. There were several niche plants which, when commissioned, will enhance active research in the drive towards low carbon emissions. I had first-hand experience of operating the post combustion capture plant and grate boiler under several conditions. One other key experience was the strict adherence to health and safety. The atmosphere created throughout the training period was conducive and I enjoyed my time at TERC."
Other feedback from the course included: "great overview of facilitates and research themes", "lots of interesting information", "great diversity of talks" and "Kris, Karen and Janos were all really nice and made the week very enjoyable!"
You can also read a blog from three of the students on their time at TERC on the UKCCSRC website here: https://ukccsrc.ac.uk/blog_posts/terc-training-2021-blog/