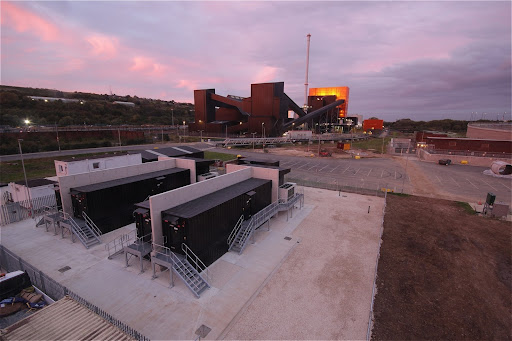 The Translational Energy Research Centre is part of a new study to assess the feasibility of using green hydrogen as a green alternative fuel for industrial steelmaking processes.
Working with a consortium of industrial partners, including electricity giant E.ON and local Sheffield steelmakers Forgemasters and Forged Solutions, the study will explore the potential of generating hydrogen from biomass which can be used as an alternative to fossil fuels in South Yorkshire's energy intensive steel industry. The project will also include support from Chesterfield Special Cylinders, Glass Futures and the AMRC.
The initial feasibility study, funded by the Department Business, Energy and Industrial Strategy and its Net Zero Innovation Portfolio (NZIP), will be based at E.ON's Blackburn Meadows renewable energy park. At Blackburn Meadows, low carbon electricity is created from waste wood that would otherwise have gone to landfill. Blackburn Meadows already captures the heat from the power generation process to feed a district heating network in the Lower Don Valley and houses a 10MW battery to support the local grid at times of high power demand.
There has been strong interest from steelmakers in testing the use of hydrogen as a way of switching away from natural gas in heating and forging processes. The feasibility study aims to provide data to support the business case to translate it into a pilot-scale project on the Blackburn Meadows site, with potential for future expansion if the project is taken forward to a full commercial demonstration.
Using its state-of-the-art modelling capabilities, TERC will conduct computer simulations to understand how introducing hydrogen will impact the process used to heat the steel in the furnace. This enables the study to conduct initial trials in a pilot-scale furnace and see whether technology will work in practice. The challenges highlighted in the trials could then be addressed in any future phases of the project. It is essential to understand the impact of hydrogen in the furnace to ensure the quality of the final product.
The £400,000 funding from the Department for Business, Energy and Industrial Strategy's Industrial Hydrogen Accelerator Programme will finance an initial feasibility study to explore the supply chain needed to help industrial customers switch away from natural gas as a fuel – focusing on hydrogen production, distribution and end use in industrial steel processes. The study will run from September 2022 to February 2023.
Professor Mohamed Pourkashanian, leading on the project for the University of Sheffield, said: "To reach a hydrogen economy there will be many barriers, not least in fully understanding and investigating the technical challenges faced in switching to hydrogen as a fuel, and how it will integrate into our existing infrastructure.
"This project takes a vital step in making this technology a reality for industrial partners, and its findings will not only support the decarbonisation of the steel industry, but also has potential to bring practical and theoretical knowledge to other foundation industries."
Michael Lewis, E.ON UK CEO, said: "Hydrogen will play a significant role in our energy future, mainly powering energy-intensive industries and long-distance transport. It sits alongside the drive for heat pumps meeting domestic heating needs and a greater role for district energy schemes in urban areas.
"Our Blackburn Meadows plant is the perfect example of a range of technologies coming together to provide a solution for an entire city and generating green hydrogen for Sheffield's world-renowned steelmakers means an economic win for them, greater security of their energy supplies as well as better air quality for the city and accelerating Sheffield's energy transition to net zero."
Cllr Mazher Iqbal, Co-Chair of the Transport, Regeneration and Climate Policy Committee, at Sheffield City Council, said: "Sheffield City Council are delighted to hear that E.ON's application to BEIS's Industrial Hydrogen Accelerator has been successful.
"Sheffield has a target to reach net zero by 2030. Emissions from our industrial and commercial sector make up about 28% of the city's overall emissions and we're encouraged by E.ON's proposal to generate green hydrogen here in Sheffield. The funding they've now secured will build the knowledge and commercial business case of using hydrogen to support the decarbonisation of our steel industry and help futureproof their energy security.
"We recognise the significant investment that E.ON has already made in the city to deliver a local renewable energy system facility alongside a district heat network and an industrial scale battery storage system and we look forward to supporting them during this next phase of feasibility and project development of their HYDESS project."
Ryan Edmonds, Director of Customer Programmes at Sheffield Forgemasters, said: "We are delighted that Sheffield has secured funding for a feasibility study into the production of green hydrogen as a potential source of energy for the steel industry.
"The transition to greener forms of energy is something that we are actively engaged in as we plan for significant site-wide changes, which will deliver new manufacturing technologies including the potential to replace gas with hydrogen for some manufacturing processes, the adoption of solar energy and greater engineering efficiencies.
"A green hydrogen fuel source could help to support our work towards green energy provision and meeting the Government's net-zero targets, through production for civil nuclear and renewable energy markets."