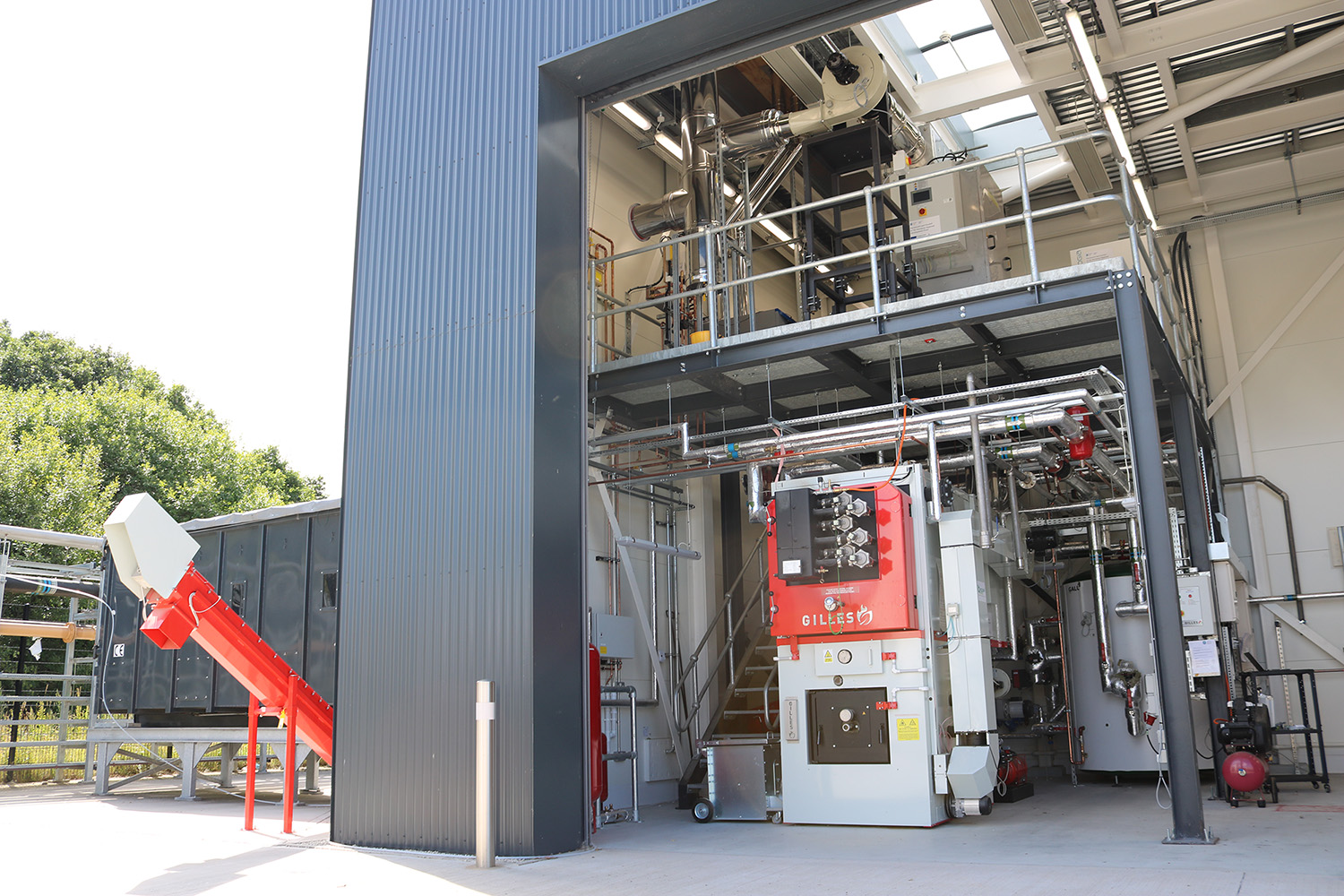 A project led by the Translational Energy Research Centre, which will investigate the integration of biomass to produce high-purity hydrogen, has been awarded funding by the Net Zero Innovation Portfolio (NZIP) under Department for Business, Energy and Industrial Strategy (BEIS), through its Hydrogen BECCS Innovation Programme.
The 'H2 production via Biomass gasification Integrated with innovative one-step Gas shift reforming and separation' project, known as BIG-H2, will see the Translational Energy Research Centre working with EDF, Urbanomy and Star Hydrogen to assess the feasibility of a new system for producing hydrogen through the gasification of biomass.
Bioenergy with carbon capture and storage (BECCS) technology offers a unique ability to remove carbon dioxide from the atmosphere, as the CO2 absorbed during the growth of the sustainable biomass and the organic content found in waste can then be permanently removed from the atmosphere using carbon capture technologies.
Specifically, BIG-­H2 will investigate the creation of a BECCS-to-hydrogen solution. The technology will use biomass (such as wood or agricultural/forestry residues) gasification, paired with an innovative gas upgrading process, to produce high quality clean hydrogen that can be used to produce low carbon heat and power, which will help to deliver long-term net negative emissions for a range of industries.
Along with systems modelling and validation of the demonstration plant, the feasibility studies developed through BIG-H2 will result in a plan to take the project into Phase 2: a large-scale industrial demonstration to prove the technology in real operational environments.
Funding for the BIG-H2 project has been made available from the government's £1 billion Net Zero Innovation Portfolio, which looks to accelerate the commercialisation of low-carbon technologies and systems.
The Hydrogen BECCS Innovation Programme supports technologies which can produce hydrogen from biogenic feedstocks and be combined with carbon capture. It forms part of the BEIS £1 billion Net Zero Innovation Portfolio, which aims to accelerate the commercialisation of innovative clean energy technologies and processes through the 2020s and 2030s.
Professor Mohamed Pourkashanian, Managing Director for the Translational Energy Research Centre and Head of the University of Sheffield Energy Institute, said of the announcement: "We are very pleased to have received funding from BEIS to carry out this exciting project which could revolutionise industrial energy use.
"Researching and developing new technology and processes through projects like BIG-H2
will ultimately help us move towards a hydrogen economy, which will reduce reliance on fossil fuels and help adapt our energy system to be cleaner, more resilient and better for the planet.
"We are looking forward to working with EDF, Star Hydrogen and Urbanomy on this project, bringing together world-leading expertise from academia and industry to work towards the delivery of a net zero economy for the UK and beyond."
Energy Minister, Greg Hands, said: "Accelerating home-grown renewables like biomass is a key part of ending our dependency on expensive and volatile fossil fuels.
"This £37 million of government investment will support innovation across the UK, boosting jobs whilst ensuring greater energy security for years to come."
Rebecca Rosling, Head of Smart Customers at EDF R&D said: "The EDF UK R&D centre is committed to developing future technologies and innovation that will help Britain to achieve net zero. Negative emissions through BECCS-to-H2 has the potential to complement other low-carbon technologies, such as our existing and planned zero-carbon electricity from wind, nuclear and solar, to deliver the carbon reduction the UK needs to achieve. We are excited to be a part of this project developing innovative gas separation technology and look forward to working with our partners and BEIS on a successful feasibility study."
Robert Kennedy, Director at Star Hydrogen, said: "The innovative one-step gas shift reforming and separation technology aims to provide efficient hydrogen separation and CO2 capture in one process. Using Biomass as the feedstock in a net negative process has the potential to provide a material contribution to not only carbon reduction but also carbon removal. Star is looking forward to working with TERC, EdF and Urbanomy in this exciting project which has been enabled by the support of BEIS."
Benjamin Mousseau, CTO & Co-founder at Urbanomy said: "We are very pleased to launch this exciting project with a great multidisciplinary consortium, and support the development of innovative solutions for low carbon energy. Urbanomy will assess the benefits of the BIG-H2 systems in terms of carbon and environmental impact. Alongside efficiency and decarbonisation of energy, we need to continue developing low carbon energy vectors like hydrogen produced from biomass, as all efforts are needed to tackle the urgency of the climate challenges."